Mount Dora Attracts People From All Over The Country For Its Festivals And Events
People come from many areas of the United States to downtown Mount Dora Florida because of our festivals and events that happen all year long. This is a happening city where there is something for everyone.
2022 FESTIVALS and EVENTS
Florida Highwaymen Art Show (January 8-9)
Renningers' Antique Extravaganza (January 14-16)
Florida Storytelling Festival (January 27-30)
Arts Festival (February 5-6)
Renningers' Antique Extravaganza (February 18-20)
Scottish Highland Festival (February 19-20)
Spring Festival (March 19-20)
Sailboat Regatta (March TBD)
Earth Day Mount Dora (April 17)
Blueberry Festival (April 23-24)
Craft Beer Festival (May TBD)
Freedom on the Waterfront (July 3)
Independence Day Parade (July 3)
Florida Highwaymen Art Show (August 13-14)
Seafood Festival (September TBD)
Bicycle Festival (October)
Crafts Fair (October)
Plant and Garden Fair (November)
Light Up Mount Dora / Christmas Festival 2021
Two million lights will be turned on in a single moment introducing the start of Mount Dora's Christmas Season. Thousands of people from all over the country are present for this festive experience. There has not been a date as to when the lights will go on. Check for updates and anything you want to know about Mount Dora with the Chamber of Commerce or Mount Dora Buzz.
Mount Dora's 40' Christmas tree with different light themes flashing off and on with synchronized music at Sunset Park. A marvelous experience!
Other Christmas Events In Mount Dora
Santa and Mrs. Claus will visit Mount Dora homes with a motorcade of emergency vehicles guiding the way from 6-9 for three nights.
Christmas Parade starts at 10 a.m. on December 4th in downtown Mount Dora.
Christmas Lighted Boat Parade – Departing from Mount Dora's lighthouse on December 4th, small boats festively light up and sail the shoreline toward Tavares.
Snow at Donnelly Park December 11th from 3-7 p.m. Children enjoy free sledding and ice skating.
Holiday Concert at the Community Building from 7-9 p.m. Lake Concert Band will perform a free concert. Donations for Lake Care Food Pantry are welcome for Lake County families.
New Year's Eve – Free street party with food and music starting at 9 p.m. Fireworks begin at midnight.
The museum is tucked behind 5th and Donnelly at 450 Royellou. In the early 1880s, Mount Dora was known as Royellou.
Visit Carolyn and Ron who seem to know Mount Dora's history. The museum still houses two of the jail cells that were originally part of the four used. In 1922, the first jail was built. The museum quotes, "Most prisoners were taken into custody for minor offenses - theft, vagrancy, drunk and disorderly conduct, making moonshine and bootlegging alcohol." There were three escapes – one dug or pounded through the wall with another breaking through the wall, but the third escapee "bent the cell door and then broke through the front door. He was said to be extremely strong and even stronger when he was drunk." They were not able to bend the door back to its original shape.
Mount Dora History Tours - Houses are dated as far back as 1882 through 1938. Walking tours and driving tours are available. Pick up a map at the Chamber of Commerce.
Mount Dora Transit – 45-minute Historic cart tours and more 352-409-8722
The Mount Dora Trolley – Narrated One-Hour Tours of Mount Dora 352-385-4473
The FUN Bus – The most hysterical and historical tour around the city 352-735-5386
Segway – Navigate your way through the streets on an adventure tour 352-325-1442
The oldest antique place! If you're looking for antique furniture pieces, nostalgic items, or just love vintage furniture, then you'll love Renningers. This is the ultimate destination for antique collectors setting up outdoor pavilions with more than 1500 dealers. Open weekends (Friday through Sunday) - antique and flea market. Note the Festival schedule (above) for times of Extravaganzas.
For Your Children The Mount Dora Public Library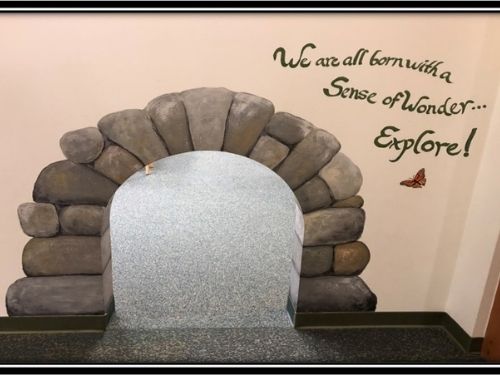 Mount Dora's W.T. Bland Public Library has a private area for children, an area that radiates imagination. Come see! They not only have books, puzzles, and computers but personalized storytelling times no matter when you arrive.
What child doesn't enjoy a park to run around and let off steam! Mount Dora has great parks and recreation areas for children of all ages.
Gilbert Park is located at the end of Liberty Avenue and south of Tremain Street on Lake Dora. This park has a large, fenced playground pavilion with a kitchen area, 25 picnic tables, and restrooms. This park has been renovated recently. If you're having a child's birthday, this park has sheltered picnic areas to accommodate outdoor parties.
Across the street is a Lighthouse.
Wooton Park is another park located on Lake Dora with gazebos, a boat ramp and a picnic area with a pavilion and barbecue pit, and Florida's red maple trees. Other nearby parks are Ferran Park in Eustis and Hickory Point Park in Tavares.
For an event, you may need indoors, contact the Mount Dora Chamber of Commerce.
For Your Pets
Dogs are welcome in our city. For many of us, we consider our pets our children. Please take them everywhere with you. You and your pet have all of Mount Dora to enjoy. Most restaurants will allow your pets to accompany you if your pet doesn't eat from your table.
Regarding taking your dog to special events or festivals, the answer would be with the organizer of that event. There should be signs posted if dogs are not allowed. And please never leave your pet in a car - not for even a minute, and we ask that you pick up after your dog. Thank you.
You never need to go far for any of your pet's needs. Mount Dora has a pet shop just a couple of miles from downtown. The Green K-9 specializes in quite a selection of healthy foods for your pet. Paul, the owner, is very knowledgeable and can answer most questions. Appointments can be set up for your pet to have a teeth-cleaning right there in the shop at a reasonable cost. They also have a dog daycare. It is a popular place. Well worth the visit!