Have You Heard Of Home Staging? Here Are Some Examples Of Home Staging Before And After Images.
Home staging is the process of styling a house for sale. The property is staged with furniture, as seen in these home staging before and after samples. This type of service requires the expertise of a property stylist and the trained eye of a real estate professional.
The "Before"
The "After"
Why is this necessary?
For starters, staged homes sell for more money.
When prospective buyers see your home and decide that they want it, they will want to make a competitive bid to ensure that they get it. The more bidders there are, the higher the chances of getting a really good offer.
According to the National Association of REALTORS® Profile of Home Staging 2019 report, 40 percent of agents noted that staged homes affected buyers' view of the property. Meanwhile, 83 percent said that home staging made it easier for buyers to visualize the property and imagine it as their future home. Of the respondents, 28 percent of agents for sellers indicated that they staged the homes. Others only did so if the property was harder to sell.
The report noted that the most common areas of the house that are staged are the living room, kitchen, master bedroom, and the dining room. Another interesting takeaway from the report is that some buyers "felt homes should look the way they were staged on TV shows." In fact, 38 percent of the respondents added that these home buying TV shows affected their actual business.
Other Benefits Of Home Staging
Home staging, done right, will make your house stand out for all the right reasons. This is important because with so much competition online, the published photo (or video tour) of your home is what buyers will use as a basis for shortlisting choices.
Uploading a photo of a clean, well-constructed house is not enough. What you need is a stunning image, worthy of a magazine feature. You want your home to look 'expensive' and 'aspirational' without necessarily spending a ridiculous sum to make it do so.
Have you ever noticed that staged homes look bigger? This is because a good stylist will know how to maximize any space in the house, no matter how small.
Part of the staging process is creating a visual flow for prospective buyers. By looking at a couple of photos of a room or the kitchen, they should get an idea and a feel of what it's like to live and move in that space.
The furniture used for home staging is not just there for aesthetic purposes. They also serve as visual 'suggestions' for buyers. The more vivid their visualization is, the more likely they will proceed to the next stage of the buying process.
Here Are More Before And After Home Staging Images From Happy Clients.
Living Room "Before Image"
Living Room "After Image"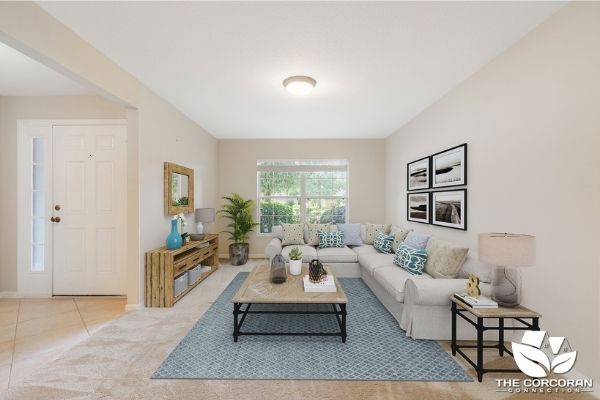 This Is One Of The Many Reasons Our Homes Sell Faster.
The Corcoran Connection is not your average real estate company. We are one of Central Florida's top sellers, and one of the reasons we're so good at what we do is knowing precisely how to stage our clients' homes.
We are also renowned for our timely, honest, and adaptable service. Give us a call now to find out how we can help achieve your real estate goals.